Brooks bound over for trial | News
WAUKESHA — Darrell Brooks made his first court appearance on Friday, shortly after dozens of new charges were added to his case this week, in addition to the previous six counts of murder. He is now bound over to the process.
Brooks, 39, faces life in prison for each of the six counts of murder; he is accused of driving an SUV into the Waukesha Christmas Parade on November 21, killing six and injuring more than 60. In addition to the manslaughter charges, Brooks now faces more than 70 new charges. These include multiple cases of reckless first-degree safety compromise, hit and run resulting in death, domestic abuse through battery offenses and bail jumping.
The modified criminal complaint against Brooks with the new charges was filed on Wednesday.
Friday morning, Brooks appeared before Court Commissioner Kevin Costello, who had to take a long time just to read out the indictments and victims. The 26-letter alphabet was not enough to include anonymous names of the victims – the list started with "Victim A" and ended with "Victim PPP".
Waukesha County District Attorney Sue Opper appeared on behalf of the state Friday, while Attorney Anna Kees, a public defender, appeared on behalf of Brooks.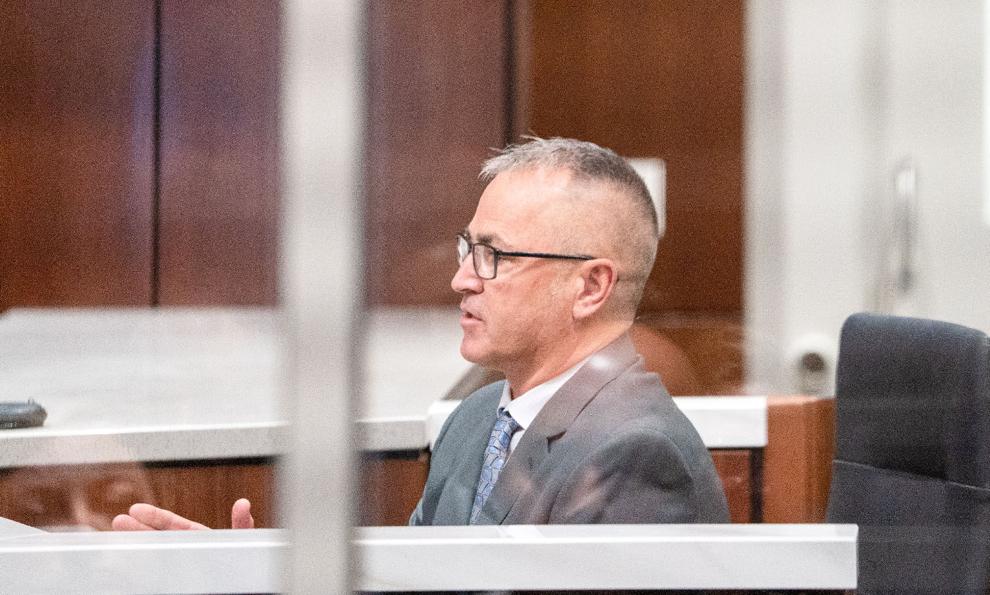 Detective Thomas Casey of the Waukesha Police Department speaks during Darrell Brooks' preliminary hearing at the Waukesha County Courthouse on Friday

PHOTO CREDIT: Derek Johnson – Freeman Staff

Both Opper and Kees questioned Waukesha detective Thomas Casey. During testimony, Casey explained how he confronted Brooks on November 21 by stepping in front of the red Ford Escape and yelling at the driver to stop. "I pounded on the hood and yelled at the vehicle to stop, which it didn't," he said.
Opper asked if Casey, who tried to stop the vehicle on November 21, saw the driver. He replied he did. When asked to identify the driver, Casey said he was in the courtroom wearing a red inmate uniform — the same one Brooks wore.
As lead investigator, Casey said he reviewed video footage of the incident from multiple sources. "We have 65 different files, each containing different videos," he said, adding that they came from citizens, businesses and some city cameras.
Opper asked how many people police said Brooks' vehicle hit. "We're at about 61 at this point," Casey said. "Six of the people were fatally injured." Deaths ranged in age from 8 years to 81 years. Those injured suffered injuries ranging from a road rash to fractured skulls and multiple injuries.
Casey detailed how the SUV attacked multiple groups along the parade route, from ReMax to the Waukesha South High School Band, Burris Logistics, the Waukesha Blazers baseball team, the Waukesha Xtreme Dance Team, Citizens Bank, the Milwaukee Dancing Grannies, the Catholic community of Waukesha and more.
"At every point in the process described so far, Mr. Brooks stops his vehicle and checks on these victims," ​​Opper asked Casey.
"He doesn't," he replied.
Casey said Brooks pulled into a driveway at one point and abandoned the vehicle. He is said to have fled on foot, apparently throwing away items of clothing that were later found in a nearby backyard.
The Wisconsin State Patrol's mechanical unit analyzed the Ford Escape, Casey said, and found nothing on the vehicle that could prevent it from stopping or accelerating.
Kees asked if Casey, upon seeing Brooks trying to stop the vehicle, remembered if the windows were open or down. "You would have looked through the glass," she asked. He replied that is correct.
Kees also asked if Casey could see Brooks' hair or if it was covered. He responded he saw dark hair, but "I just focused on his face…I wanted to remember his face and so I focused on that."
After his arrest, Kees noted, Brooks had a marijuana odor and glazed eyes, according to an officer. She once said he recently told an officer, "I didn't mean to kill anyone." Casey said he believed that was correct.
Opper pointed out that if Brooks wanted to avoid hitting a person or object, he could have simply stopped the vehicle. Casey said that was correct. He also confirmed when Opper asked that Brooks never got out of the car to check on those hit.
Costello scheduled Brooks' next court date, an indictment, for February 11 and tied him up for the trial. Meanwhile, he remains in custody on $5.2 million bail.
Opper said February 11 was an "acceptable date" for everyone and families had been consulted.
None of the victims or their families spoke publicly in court on Friday.
fall background
According to the latest criminal complaint, a detective reviewed video footage of the incident from multiple sources. "At one point Brooks leaned his head out the window to steer because a person on the windshield was blocking his view, but Brooks didn't stop and continued driving," the detective explained in the complaint.
Investigators spoke to a woman on November 21. Her "left eye was extremely swollen and bruised and her right leg was stuck in a boot," the complaint said. She said the leg injury stemmed from a previous incident with Brooks, in which he is accused of running her over in a gas station lot with the same SUV used in the parade. She said he also caused the injury to her eye by hitting her.
Brooks remains incarcerated in the Waukesha County Jail on $5 million bail. Before the parade, he was released on $1,000 bail from Milwaukee County in a domestic violence case alleging that he ran over the woman with the same SUV. Milwaukee County District Attorney John Chisholm said "human error" by an assistant district attorney led to the bail total, which he called "unreasonably low." Chisholm was asked to resign or be removed following the revelations about that bail.
For the separate Milwaukee County case, Brooks' bail for Milwaukee County was recently increased to $200,000, bringing his total bail to $5.2 million.
The injured woman who spoke to investigators on Nov. 21 said Brooks was angry with her and hit her while driving. "They stopped at the intersection of Bidwell and NW Barstow and she got out of the SUV for her own safety," the complaint reads. "She stated that Brooks sped off in an unknown direction." She said Brooks later confronted her and yelled at her from his window – she described the location as the auto station on the corner of North and NW Barstow. He confronted her again on the way back to Frame Park in front of White Rock School, she said.
During the November 2021 hearing, Opper delved into Brooks' extensive criminal history. Opper discussed cases where he was found guilty of defiing/disabling an officer, substantial battery – intentional assault, strangulation/suffocation and more across Wisconsin. Other cases of a similar nature have been filed in Georgia and Nevada.
Waukesha County Medical Examiner's Office officials' causes of death for the five people originally pronounced dead were all from multiple blunt force injuries.
According to the older criminal complaint, the SUV's brakes appeared to be activated at one point at the intersection of East Main and NW Barstow streets, and an officer believed the driver would stop and turn right, outside the parade route. "The vehicle then seemed to accelerate strongly," says the complaint. "The vehicle abruptly made a left turn into a crowd of paradeers. At that point it was clear (to the officer) that this was a deliberate act to hit and injure as many people as possible."
An officer shot and hit the vehicle three times.
A witness told law enforcement that the vehicle was moving in a "zig-zag motion" and appeared to be "trying to avoid vehicles, not people." There was no attempt by the vehicle to stop, let alone slow down."
According to Opper, Brooks had an active warrant in Washoe County, Nevada.
The Freeman will cover Brooks' case as it progresses.
For the latest news on the Waukesha Christmas Parade tragedy, click here.