Calgary realtors concerned over potential CREB merger
Breadcrumb Trail links
real estate
news
Local News
Local business
Business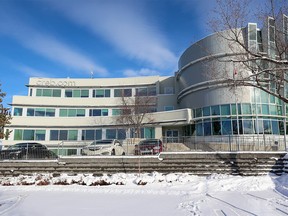 The Calgary Real Estate Board (CREB) building was photographed on Monday, January 30, 2023. Gavin Young/Postmedia
Article content
As the Calgary Real Estate Board moves towards a potential merger with the Alberta Real Estate Association, not all realtors are on board.
Advertisement 2
This advertisement has not been loaded yet, but your article continues below.
REGISTER TO UNLOCK MORE ARTICLES
Create an account or sign in to continue with your reading experience.
Access articles from across Canada with one account
Share your thoughts and join the conversation in the comments
Enjoy additional articles per month
Get email updates from your favorite authors
Article content
CREB has been in discussions with AREA for the last two years on a consolidation that would eliminate overlaps between the two organizations and create efficiencies.
By clicking on the sign up button you consent to receive the above newsletter from Postmedia Network Inc. You may unsubscribe any time by clicking on the unsubscribe link at the bottom of our emails or any newsletter. Postmedia Network Inc | 365 Bloor Street East, Toronto, Ontario, M4W 3L4 | 416-383-2300
Thanks for signing up!
Article content
Some local relators, however, are wondering why the move needs to take place at all.
Justin Havre, team leader at ReMax First in Calgary, pointed to CREB being one of the oldest and largest boards in Canada with 7,000 members and in good health. He would prefer to see AREA attempt this amalgamation with smaller boards in Alberta first rather than jumping in with the largest.
Article content
"I can see how it can be a benefit long term by having one provincial board, however, I think it needs to be done properly," said the 18-year member of CREB. "It needs to be done for the right reasons. They need to start somewhere but don't start with the biggest board to disrupt the biggest membership."
Advertisement 3
This advertisement has not been loaded yet, but your article continues below.
Article content
Merger would allow quicker, more decisive response to issues: CREB CEO
CREB was formally established in 1943 and all members are also part of AREA already. The 10 real estate boards in Alberta all fall under the umbrella of AREA and represent 13,000 realtors across the province. Its largest role in recent years has been to provide leadership on major issues and advocacy.
Article content
It is unclear to members what other services will look like going forward post-merger and if those services would be at the same level as currently delivered by the local board.
In a communication with membership in November, CREB chairman Christian Twomey said the merger would allow members to speak as "One Voice." In an interview with Postmedia this week, CREB CEO Alan Tennant said this unification would give them the ability to respond quicker and more decisively to issues, pointing to the challenges the sector faced during the pandemic.
Advertisement 4
This advertisement has not been loaded yet, but your article continues below.
Article content



Varcoe: Alberta poised to outperform Canadian housing market in 2023 as population swells




Downtown offices on the road to recovery despite headwinds
Many agents have lack of understanding around merger's details, realtors say
Despite three open houses and a virtual open house slated for Thursday and a final in-person session on Feb. 7, there are still lots of unknowns for Havre. This includes how it will impact members, the services members will be able to access and what the transition will look like.
Steve Zacher, a realtor with ReMax Central, said he was not sold on the idea that the formation of the CREB Foothills Council would maintain local influence, as final decisions would still be made at the provincial association level. The council chairman, meanwhile, would not be elected but would be appointed as a non-voting liaison to AREA.
Advertisement 5
This advertisement has not been loaded yet, but your article continues below.
Article content
Havre works with many realtors in the city and has talked with them about the merger and said there is a general lack of understanding about it among agents. Those comments were echoed by Zacher, who was also concerned with the low threshold required for approval on March 15. The vote requires a quorum of 50 people to be valid and two-thirds support for the merger to proceed.
Zacher also took issue with the potential sale of the CREB headquarters in northeast Calgary, a building the organization owns outright. Under the consolidation, AREA's office in downtown Calgary would remain the head office while CREB would look to set up at least two satellite offices to serve members.
Prior to the pandemic, he said CREB focused on lots of professional development at the headquarters which includes classrooms, board rooms and an auditorium. CREB also operates the MLS system, has a political action committee and said the City of Calgary relies on its information and services for tax assessments.
Advertisement 6
This advertisement has not been loaded yet, but your article continues below.
Article content
He pointed to what CREB would be giving up in that transaction from a developmental and facility standpoint. He would rather see the organization hold on to the CREB office and lease out underused parts of the facility.
"We'll be landlords, why do we want to be a tenant?" he said. "We're in the real estate business. We tell people every day that real estate is a great investment, best investment in your life. And here we are, selling our building and going to be renters. It doesn't make a lot of sense."
Calgary seeing lowest level of new listings in quarter century
These discussions are taking place following two record-breaking years for the sector in Calgary. While sales are expected to fall off in 2023, real estate is expected to remain strong this year. The biggest factors will be high demand due to the migration of people to Calgary mixed with low demand and high interest rates, in respect to the last 10 years.
Advertisement 7
This advertisement has not been loaded yet, but your article continues below.
Article content
Through the first month of the year, these predictions were holding true as the sector showed the lowest level of new listings in 25 years, as inventory remained 43 per cent lower than long-term trends for January. The benchmark price was up five per cent to $520,900, while sales dropped 40.2 per cent to 1,199.
Detached homes saw the largest pullback with a limited inventory of lower-priced units and a benchmark of $622,800. However, the apartment and condominium sector benefitted with the lowest levels of inventory since 2014 due to being an affordable option, this has seen benchmark prices increase one per cent to $277,600, and almost 10 per cent higher, year-over-year.
Twitter: @JoshAldrich03
Share this article on your social network
Advertisement 1
This advertisement has not been loaded yet, but your article continues below.
Comments
Postmedia is committed to maintaining a lively but civil forum for discussion and encouraging all readers to share their views on our articles. Comments may take up to an hour for moderation before appearing on the site. We ask you to keep your comments relevant and respectful. We have enabled email notifications—you will now receive an email if you receive a reply to your comment, there is an update to a comment thread you follow or if a user you follow comments. Visit our Community Guidelines for more information and details on how to adjust your email settings.