Commission approves $35M incentives for Webster Groves housing, commercial project | Local Business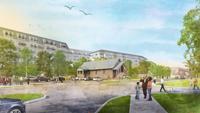 The rendering shows Douglass Hill, a proposed retail and commercial development in Webster Groves. The suburb's historic Black Church, Old Community Baptist Church, which is pictured, would remain.
Courtesy SG Collaborative


WEBSTER GROVES – A city tax incentive commission recommended Tuesday that a large planned residential and commercial development here receive $ 35 million in incentives.
The commission agreed 8: 4 to recommend that the city council donate $ 35 million in tax increases to developer SG Collaborative's Douglass Hill project, which has more residential, retail and commercial space on the southwest corner of North Gore and West Kirkham Avenue would manage. Webster Groves School District-appointed David Addison and Pam Frazier and city-appointed Ryan Murphy and Clark Hotaling voted no.
The recommendation is not binding, but a committee vote against the TIF would have required a two-thirds majority in the city council and would also have restricted the developers' use of the money.
A negative vote by the TIF commission in Maryland Heights last year, in which all the county's MPs rejected a project in the Howard Bend Levee District, effectively undermined the TIF plan.
Webster City Council is due to vote on the Douglass Hill TIF and rezoning on December 7th.
Existing businesses in the 15-acre area of ​​Douglass Hill, with the exception of a historic Black Church, would be demolished for approximately 700 apartments, 100 condominiums and more than 100,000 square feet of retail and commercial space. The development would add more residents and tax dollars to Webster, who has long been targeting the area for redevelopment.