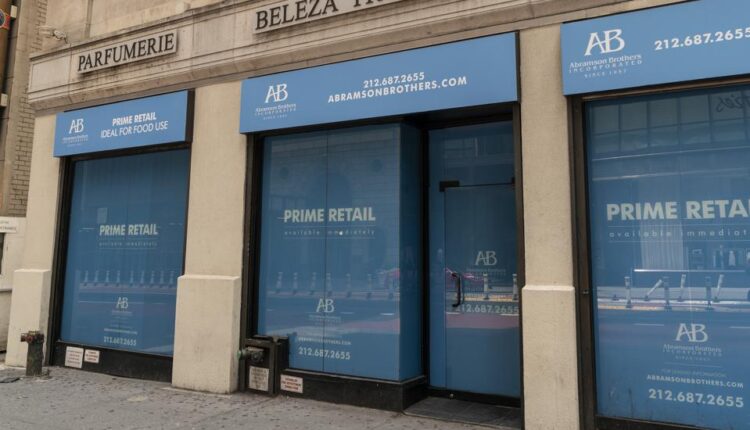 Here Are Four Accelerated Technology Trends Impacting The 2021 Commercial Real Estate Market
NEW YORK, UNITED STATES – 2020/07/13: View of available commercial space in Manhattan … [+] COVID-19 pandemic Many stores have ceased operations. The number of available properties in the city is increasing. (Photo by Lev Radin / Pacific Press / LightRocket via Getty Images)
Pacific Press / LightRocket via Getty Images
The digital transformation has been a buzzword in the commercial real estate industry for more than a decade. The real estate technology fast lane in the real estate industry grew 1072% from 2015 to 2019, and in 2018 venture capital firms invested $ 8.3 billion in proptech companies around the world.
"The pandemic has certainly presented the real estate industry with unique challenges. It is important to realize that while the pandemic served as an accelerator, it did not change the trends that were already in place, "said Jim Berry, vice chairman and US real estate executive of Deloitte. "As memorable as the events of 2020 were, 2021 and beyond will matter as certain CRE companies take advantage of opportunities to better align their operations with those of the user and the end user."
Berry says the great global experiment that Covid conducted has required everyone to expand in their life and work.
"Real estate users – whether tenants or end users – as well as how and what is valued have played a more central role in the decision-making process of business leaders on their path to re-entering the next norm," Berry said. "Where people work depends, for example, on the business needs and preferences of the employees. When companies examine their culture, purpose, and preferences, CRE executives will [..] Benefit from it by taking advantage of this and integrating it into your planning and investments. "
According to Berry, Deloitte sees "Purpose, Location, and Analysis" as the ongoing evolution of CRE's value proposition.
"As the pandemic opened our eyes, we see it as an accelerator of existing trends. It is telling that 56% of CRE respondents to our CRE Outlook 2021 survey said the pandemic had exposed deficiencies in their company's digital capabilities. Only 40% of the respondents stated that their company has a defined roadmap for digital transformation.
Berry believes executives must walk the tightrope between managing costs and investing in the future.
"The decisions made in 2021 will have an impact on those who begin to differentiate themselves and drive that disparate value proposition," added Berry.
According to John D'Angelo, US real estate leader Deloitte Consulting, the effects of the COVID-19 pandemic on commercial real estate (CRE) will accelerate these four technology trends in 2021 and beyond.
Rise of the digital twins. The CRE industry is creating and holding a lot of data. D'Angelo says that by collecting and using data about the building itself as well as Internet of Things (IoT) data about how the building works [..] Operate more efficiently, improve occupant (shoppers, residents, and patients) experiences, and identify problems or potential problems.
Direct digital engagement. Through direct digital interaction with the end users of real estate, the provision of touchless services facilitates access, ensures a safe and healthy environment and automates traditional processes.
Data and analysis. According to D'Angelo, data-driven decision-making will continue to mature as demand and behavior patterns change rapidly, and CRE companies work to understand and respond to the opportunities and risks of those changes. "Trying to do this out of instinct or gut just doesn't work effectively in this environment," added D'Angelo.
Automation of robotic processes. Real estate is known to have been slow to advance the use of technology, according to D'Angelo. "Robotic Process Automation (RP) is an example of the slow adoption of automation in CRE. As we see CRE companies work to improve operational efficiencies and drive costs down, RPA will play a role in the overall digital transformation effort, "said D'Angelo.
"Ultimately, the competitiveness of a CRE company in the post-COVID-19 world could depend heavily on the extent to which its employees can be successful in a digital work environment," said Berry.