Innovan Neighborhoods Launches Community Developers Roundtable to Fuel 'Catalytic Real Estate Development' » Dallas Innovates
A new initiative is looking to tackle one of the region's more pressing real estate issues—the need for more affordable housing—while accelerating the revitalization of underserved communities around Dallas.
Led by local developer and consulting firm Innovan Neighborhoods, the Community Developers Roundtable aims to serve as a collective learning, networking, and funding opportunity for both nonprofit and for-profit local developers.
"Across Dallas, there's a need to build capacity for existing and rising community-oriented developers, specifically people of color, bringing innovative solutions to increase housing affordability and community-based amenities in historically distressed communities," Maggie Parker, Innovan Neighborhoods founder and managing partner, told Dallas Innovates via email.
'We can see neighborhoods and communities set up for success'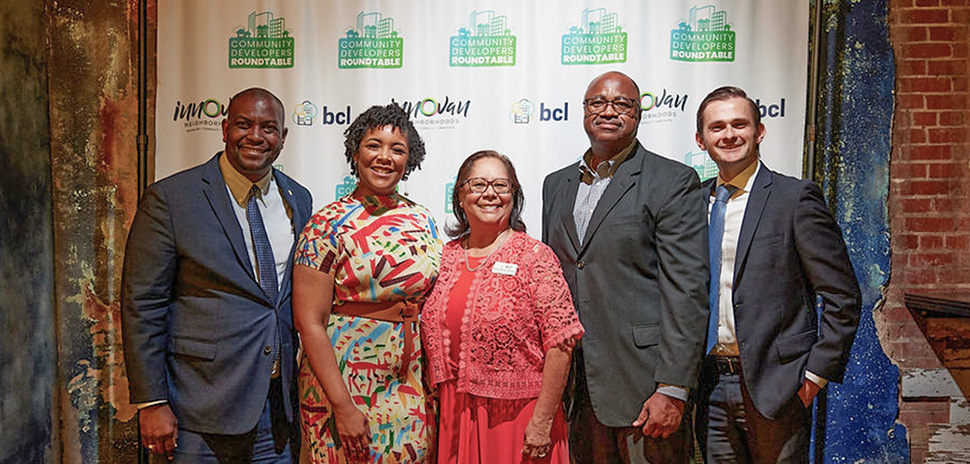 Targeting community-oriented developers of color, the roundtable will provide monthly networking for members to share financial resources, get updates on local policies affecting the industry, and align "opportunities for catalytic real estate development" across various parts of the city. Parker said it will also provide members with ongoing feedback and accountability.
To help with that goal, Innovan has raised funding from JPMorgan Chase, for which BCL of Texas will act as a fund manager and fiscal sponsor, for a projected $1 million pre-development fund, staff capacity grants, and financial resources for technical assistance roundtable members. Parker said she hopes the "flexible capital" will help to increase the pipeline of community revitalization projects in the region.
"When we put funds and resources behind innovative solutions, we can see neighborhoods and communities set up for long-term success," Parker said.
Roundtable will include up to 15 members
Innovan began accepting applications for roundtable members at the beginning of the month, with a deadline for applications at the end of this week. Ultimately, the roundtable is looking to have 10 to 15 members focused on projects including affordable single-family and multifamily housing and commercial real estate in "underserved or distressed areas."
"Empowering a diverse pool of developers will allow increased possibilities to address community concerns, including minimal attainable housing options, fear of displacement, and loss of community assets like community-led grocers and retailers," Parker said.
Addressing a real estate market 'in flux'
Parker said the current rental and for-sale markets are "in flux" because of inflation and new residents moving to the region, both of which are driving the need for more access to quality affordable housing and "neighborhood-based commercial spaces." Through the two-year pilot of the roundtable, Parker said she hopes to strengthen the ecosystem's long-term project pipeline, while acting as a collective voice for community-focused developers.
"Innovan is successful when there are more developers like myself—a woman and person of color from the community, with a heart to serve and starting real estate connections from scratch—have the patient capital, resources, and partnerships to move community-oriented development projects forward," Parker said. "The roundtable is a formal manifestation of that vision as we hope to strengthen the community development ecosystem for generations to come, by both developing catalytic projects and supporting like-minded organizations."

Get on the list.
Dallas Innovations, every day.
Sign up to keep your eye on what's new and next in Dallas-Fort Worth, every day.
READ NEXT
In a recent survey, 73% of multifamily residents said they are interested in—or won't rent an apartment without—sustainability and green initiatives being implemented at the property. The two companies are joining forces to help "shift the aspirational to become truly day-to-day operational."

Mark Roberts is taking his expertise in the real estate space to two local organizations. A fellow at the Real Estate Research Institute, Roberts has been jointly hired by Dallas real estate investment and development firm Crow Holdings and the SMU Cox School of Business' Robert and Margaret Folsom Institute for Real Estate as a director of research. "It is a rare opportunity to be able to be a part of two incredible organizations at once," Roberts said in a statement. "I look forward to adding my voice to the conversations going on in both classrooms and boardrooms during this…

The pioneer in real estate social media and branding is launching his fifth company: RHA Land and Lake. Already owning the largest independent real estate firm in North Texas with a long list of celebrity clients, Healy relocates clients worldwide. Now he aims to place more people in down-to-earth rural properties across Texas, and "Texahoma" too—with a projected $50 million under contract by this spring.

There's interest by developers from across the country to build affordable housing here, says Jones, a director at Coats Rose and public policy chair at The Real Estate Council. Stakeholders can embrace the opportunity, the attorney says. The investment in affordable housing "will be catalytic and will be get economic vibrancy."

Kyle Waldrep's SaaS proptech platform Dottid sits in one of the most critical functions for a commercial real estate owner: leasing and asset management. The future of CRE will be powered by simple tech that helps people and organizations be more efficient and quicker to action, he says. But collaboration is the key to the future in proptech.