Louisville sees record low commercial vacancy rates
LOUISVILLE, Ky. — Vacancy rates for commercial real estate in and around Louisville are at record lows and that's causing headaches for business owners who need to move.
What You Need To Know
Blinds Direct must move out of their current location by the end of the year
A lack of properties and high rent are both issues facing Blinds Direct
Commercial vacancy rates in the Louisville Metro are at a record 1.5%
Experts say the lack of supply means landlords can raise rent prices
Steve Andriot, president of Blinds Direct, is searching for a new space for his business but choices are slim and rent is high. (Spectrum News 1/Mason Brighton)
For Steve Andriot, president of Blinds Direct, he's learned that because of current market conditions, he'll end up having to pay much more in rent for a smaller space.
"In fact, you know, we're toying with the idea if we have to of separating it, having a warehouse somewhere and have like an office showroom somewhere. I'd prefer not to do that, but if that's what we have to do, that's what we have to do," Andriot said.
Andriot, whose business has been in east Louisville for the last 25 years, now faces a problem felt by many in a similar position; there's only a few available properties, and they're not cheap.
"You know, ideally I'd like to stay in the area here. We've been here for so long, but yeah, even expanding the search, the pickings are slim," Andriot said.
A quarterly study of the Louisville commercial sector by global real estate services firm Cushman and Wakefield, reports the area's vacancy rate is down to 1.5% for industrial real estate. The report states this is the lowest ever recorded.
Nick Grisanti, an industrial real estate broker with Grisanti Group Commercial Real Estate, explains what this means for renters.
"Well, it defiantly translates to higher rents, you know it's a supply and demand issue so when landlords know that the tenants don't have a lot of options it pushes rents and it pushes all things in a lease to the landlords favor," Grisanti said.
Grisanti adds that smaller industrial buildings, like what Blinds Direct needs, are very limited in Jefferson County. While more developments are popping up in neighboring counties, they too are facing obstacles.
"That's one of the biggest constraints on industrial development in our market right now is sites. I mean, there is just not a lot of good sites to build on," Grisanti said.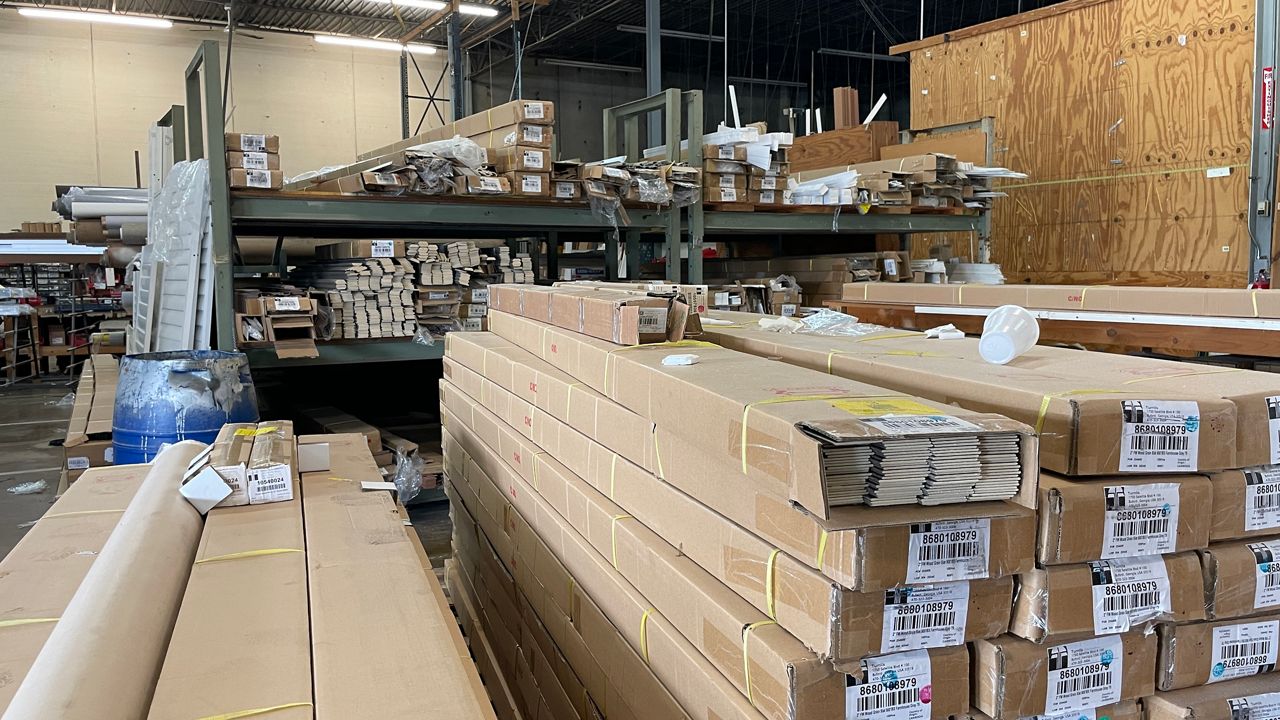 Boxes of blinds inside the Blinds Direct warehouse (Spectrum News 1/Mason Brighton)
A lack of plentiful options has left Androit in a race against time because he says it will take at least a few months to fully settle in, and this all must happen before the end of the year.
"I've talked to a couple of realtors, haven't had a whole lot of response, been online, I've been doing that every day and you put in the parameters and you might show two or three even remote possibilities up and they're the same ones that's been there since I've been looking and they might have been leased or sold six months ago," Androit said.
The business' current location is 25,000 square feet of warehouse and showroom space. Both areas will be paired down wherever they move next, including slashing their wallpaper sales which have dwindled over the last few years.
Still, with business staying steady, it's going to be costly wherever they end up.
"So yeah, we're going to have to expect to pay quite a bit more. You know two and a half, three times the square foot price," Androit said.
Andriot says he'll keep looking until they find the right space, one way or another.