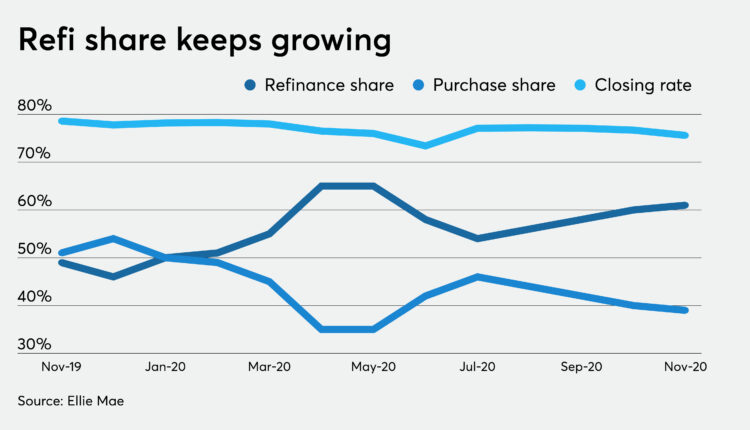 Low mortgage rates drive November's frenzied originations activity
November's refinancing share of mortgage activity rose for the fourth straight month as interest rates declined a full percent year over year.
According to the Ellie Maes Origination Insights Report, refinances accounted for 61% of closed loans, with the average 30-year FRM falling to 2.97% over the month. This corresponds to an annual increase of 49% and 60% in October. Purchases also had a strong month, as sales rose 19.7% annually, according to a separate report from Remax.
"Towards the end of 2020, we are still seeing a strong appetite for refinancing, which is the lion's share of closed-end loans for the month," said Joe Tyrrell, president of ICE Mortgage Technology, in a press release. "Interest rates continue to drop below 3%, which increases demand for purchases and refinancing as homebuyers expand their spending potential or take advantage of the opportunity to reduce their monthly mortgage payments."
This week the 30-year fixed rate mortgage rate fell to its lowest level ever – 2.67%.
The overall closure rate fell again to 75.6% in November from the report's high of 78.6% year-over-year and 76.7% month-over-month. Ellie Mae's lending system users increased their closing time from 54 days in October to 55 days. The closing times for purchase origination increased from 48 days per month to 49 days, and refinancing went from 57 days to 59 days.
The share of adjustable-rate mortgages was 2.4% from October, but fell from 5.3% in the previous year. The FICO average values ​​for loans closed the exchange rate from the previous months, falling to 752 from 753 in October, while they still overshadowed the 736 year-ago rate.
"As many parts of the country move into the next phase of pandemic shutdowns, lenders must leverage the technology to enable virtual capabilities for their employees and homebuyers and provide automated workflows to simplify processes and improve engagement with interested parties," said Tyrrell said.