Mortgage Bankers Cut Commercial Lending Forecast
Lending trends going down. (Source: Shutterstock)
The Mortgage Bankers Association cut its forecast for commercial real estate loan originations for 2023, pushing off a recovery until 2024.
Jamie Woodwell, the MBA's head of commercial real estate research, cited the effect of the Fed's rising interest rates. The Federal Reserve's Open Market Committee raised the federal funds rate 50 basis points Dec. 14 to 4.25% to 4.50%, up from near zero at the beginning of the year. The median estimate among FOMC members is that the rate will be 5.1% by the end of 2023.
"Those shifts in outlook from the Federal Reserve are both a response to changing economic conditions and a cause of change themselves," Woodwell said.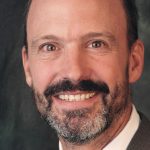 Jamie Woodwell
"Commercial real estate markets are not immune to these shifts, and we expect borrowing and lending backed by commercial and multifamily properties to decline again this year," he said. "Uncertainty and volatility around the paths of the economy, interest rates and property valuations will likely continue to cause instability for commercial real estate markets well into this year."
The MBA's Thursday forecast predicted total commercial real estate production this year will be $700 billion, down 5% from 2022. In October it forecast $848 billion for the year, up 11%.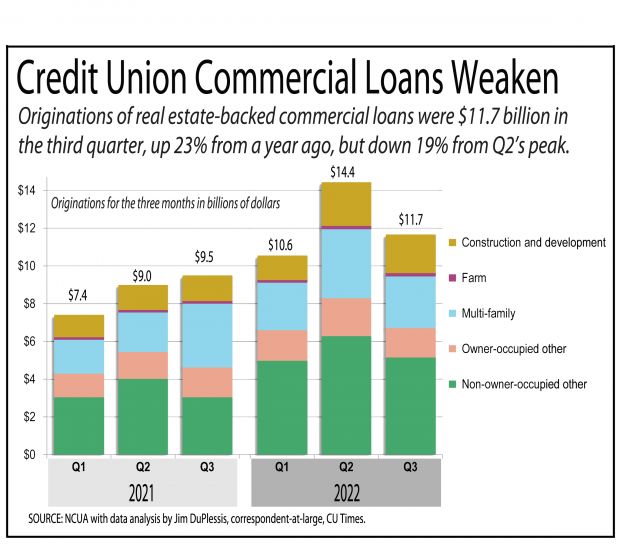 Thursday's forecast showed multi-family origins falling 10% to $393 billion. In October it forecast multifamily falling 1% to $451 billion.
Thursday's forecast showed other commercial origins rising 2% to $307 billion. In October it forecast other loans rising 28% to $397 billion.
The MBA also lowered its estimates for 2022.
Total origins were lowered 3% to $740 billion. In February 2022, the MBA forecast total originations would be $1 trillion, but steadily lowered its forecast each quarter. On Thursday, the MBA lowered its forecast for multi-family loans 4% to $439 billion, and lowered other loans 3% to $301 billion.
Credit unions have defined those trends — at least through the second quarter when commercial real estate origins peaked at $14.4 billion. In the third quarter, they fell 19% to $11.7 billion, but were still 23% higher than in 2021's third quarter.
From January through September, credit unions originated $36.7 billion in commercial real estate loans, up 41% from the first nine months of 2021. Multi-family originations rose 23% to $8.9 billion for the nine months.