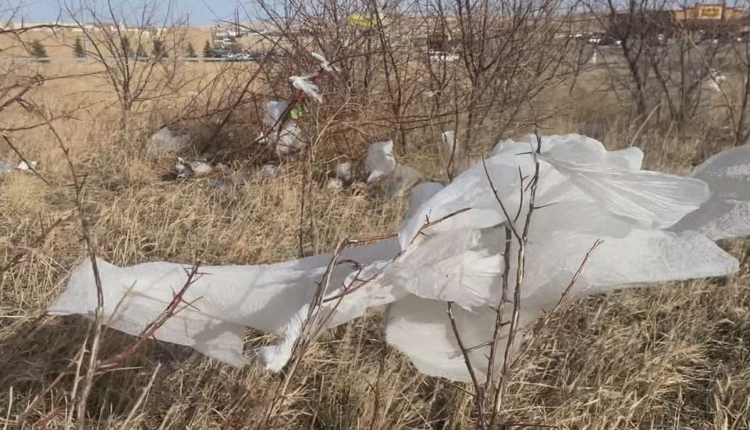 Rapid City investigates wind tunnel of trash behind Rushmore Crossing
RAPID CITY, SD (KOTA) – Many parts of Rushmore Crossing in Rapid City are littered with trash.
We found hundreds of plastic bags scattered in vacant lots behind the mall on Luna Avenue. It's as big as a soccer field.
"This gets into our water system," said Laura Armstrong, president of Rapid City Council. "There are animals that actually take it in. It is not good for animals to take it in. It gets into our food supply. This is our community. "
KOTA Territory News made Armstrong aware of the situation.
According to the city law, if you own a piece of land, you must keep it free of waste.
According to Armstrong, this isn't the first time this property has received a complaint.
"A formal complaint was filed back in November and it has been resolved," said Armstrong. "We rely on citizens and the media to inform us when there is a problem, because if we don't know about it, we cannot help.
We also found auto parts, gas tanks and blankets. Workers in the area say they saw homeless people camping out there.
So who will determine if a property is against the law?
According to Armstrong, there are three police officers who respond to complaints of this type.
She says that is not enough and is pushing for more.
Councilor Bill Evans says code enforcement officers will begin investigating an issue after a complaint is filed.
"There has to be a formal complaint. People will investigate and see if they can be brought into agreement. If not, the city cannot start acting, "said Evans.
There are several sales signs on the property. The listed real estate company is Remax Results. We have tried and are waiting for an answer.
City officials tell us they are now investigating this property.
This is also one of the many places we are investigating in the area that has a lot of trash.
Armstrong said the area around Rushmore Crossing will be a big focal point for the upcoming city-wide cleanup event. It is scheduled for April 24th.
Hundreds of volunteers will be heading to parks and neighborhoods in Rapid City to pick up trash.
"We didn't have a last year because of COVID," Armstrong said. "There is two years of rubbish that has peaked in this particular area and is even younger to get into that area and clean it up."
To find out more about volunteering at this event, visit our website
Copyright 2021 KOTA. All rights reserved.