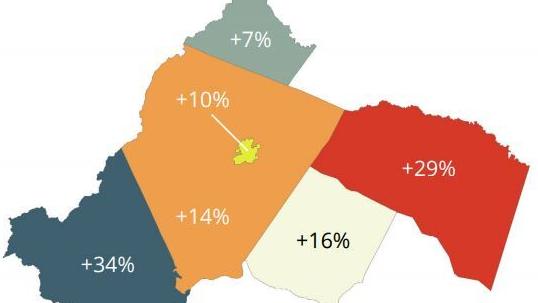 Real estate assessments up 9% in 21 | News
In contrast, commercial real estate has generally suffered from the negative impact of the pandemic on demand for the retail, lodging, restaurant and personal services industries, according to Rephann.
With more than 10,500 taxable lots in Greene, the County Commissioner works with an outside contractor to complete evaluations every two years based on the estimated market value of the lots.
"The evaluation values ​​are determined by the sales study," said Snow. "If the company looks at all of the sales for the past year and a half, it will use house and land sales prices to determine the acre price of land and the price per square foot of houses. If house and land sales in 2021 are within 90% of market value, we will have a good estimate. "
The Charlottesville Area Association of Realtors (CAAR) publishes a quarterly home sales report covering the city of Charlottesville and counties of Albemarle, Fluvanna, Greene, Louisa, and Nelson. According to the fourth quarter 2020 report, consumer confidence fell towards the end of the year due to uncertain political and economic conditions across the country. However, steady growth in employment and a decline in the unemployment rate since the summer have contributed to a strong sales market.
Greene saw 78 home sales in the fourth quarter of 2020, up 3% year over year from 2019. Median sales price was $ 304,750, up 7% over the same period in 2019. Total home sales increased in the fourth quarter Up to $ 25.2 million in the county, 9% more than last year. At the end of the year, there were only 43 active listings in the market, a decrease of 56% from the previous year.