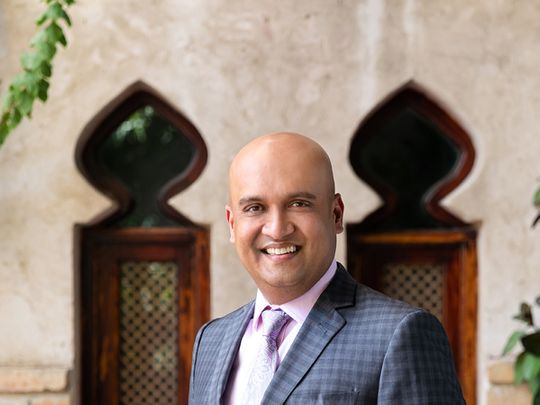 Some of the largest developers of commercial real estate in Dubai use Yardi to manage their properties.
Aditya Shah is the director of Yardi's Middle East operations
Photo credit: Delivered
In 1984 Anant Yardi created "Basic Property Management" for the Apple II computer. Since then, Yardi has grown dramatically to become the leading provider of software solutions for the real estate industry. Aditya Shah, director of Yardi's Middle East business, talks about how it is also helping commercial real estate developers cut costs and increase asset value.
What is Yardi doing to reduce costs and increase commercial property assets? How can Yardi help replace or repair?
The Yardi Facility Manager helps keep properties running in tip-top condition by automating facility maintenance planning. Easily track technicians, assign work orders, and quickly pay attention to maintenance requests. This solution helps owners keep their properties in optimal condition with scheduled and preventive maintenance monitoring that includes code compliance checks, warranty maintenance and regular inspections. This in turn helps with fewer device failures and helps save money with automated scheduled preventive maintenance planning. The Yardi Facility Manager helps property owners increase the value of their assets by streamlining facility management and gaining more insight into the health of their properties. Further improvements and cost reductions are achieved through the optimization of service requests, the intuitive maintenance of assets and devices, improved resource planning and improved communication and collaboration.
Can you talk about your tenant-friendly activities: renewals, rent reductions, tenant-friendly payment terms – something special for commercial tenants?
The best practice in the world is to calculate monthly rents. This helps tenants with their cash flow and in turn reduces check bounce. For most tenants, paying rent by three or four checks puts pressure on cash flow. A monthly rental plan can improve the renter's cash flow as it makes it easier for the renter to budget each month. With a monthly rental plan, however, the accounting department now has to process 12 checks instead of four. Yardi can step in to help with its core product, Voyager, which is based on global best practices. Yardi Payment Processing, which is part of the Voyager suite, can help with direct debits and improve operations. Monthly direct debits are common in western economies. As a global proptech company, Yardi is able to process retrospective checks and support monthly direct debit payments.
How can you help landlords increase leads by better marketing their properties? How does Deal Manager come into play here?
With the most dynamic leasing solution designed specifically for the real estate industry, Yardi Deal Manager lets you close more deals, faster. Yardi Deal Manager provides powerful business management capabilities with an easy-to-use, mobile solution. Access up-to-date information on unit availability, floor plans, and interactive stacking plans that sync rental-level data directly to Yardi Voyager. It enables centralization of communication, entry of terms and conditions, tracking of proposals, and calculation and storage of NER at the business level.
Yardi Deal Manager shortens the business cycle. It integrates all aspects of the leasing process into a single connected solution that includes custom deal management, automated workflows and approvals. It helps the leasing team achieve complete transparency of the deal pipeline with the most advanced solution on the market. And quickly identify tenant information and detailed rental information such as rental steps, options and charges. With the Yardi Deal Manager, the leasing team can work more efficiently and reduce errors by avoiding duplicate data entry and leasing abstractions. And to top it off, the solution is mobile. The Deal Manager mobile app helps keep contacts and leasing pipelines up to date. The team can update deals, leads and pipeline data on the go. This data is automatically synchronized with Voyager to give the leasing team the latest information to help them make safe decisions, secure permits and receive on-site notifications. The Yardi Deal Manager is available for both Apple and Android operating systems.
Yardi Forecast Manager
Photo credit: Delivered
In mixed-use buildings with offices, retail and residential buildings – how does Yardi benefit property managers and landlords?
In 1984 Anant Yardi created the "Basic Property Management" for the Apple II computer and sold it to our first customer, Sabaco Realtors. Since then, Yardi has grown dramatically to become the leading provider of software solutions for the real estate industry. Our solutions increase efficiency and reduce costs for a global customer base of public, private and nonprofit organizations. The markets we serve include commercial, multi-family, single-family, self-storage, student housing, senior housing, cooperative affordable housing, PHA, military housing, airports and parks, and recreational facilities. Our complete property management solutions include software for property management, accounting, marketing and leasing, market intelligence, energy management, end-to-end procurement, business intelligence, learning management and much more. We have multiple options for all portfolio types and sizes, from large multinational companies to small and medium-sized companies.
Can you talk about the benefits of Yardis ORION Business Intelligence?
Yardi's reporting dashboards give you deeper insight into the owner's portfolio with actionable business intelligence. Yardi ORION Business Intelligence was specially developed for a property owner or a CEO, COO, asset manager and offers detailed analytical insights into their operation and competitive environment. It helps increase sales across all asset classes by combining revenue management, marketing, expense and income budgeting across the enterprise – and benefiting from recommendations that get smarter over time to generate more revenue. You can immediately benefit from a solution that costs considerably less time and money to implement than other business intelligence systems. Yardi Orion Business Intelligence is a unique, mobile-ready platform with more than 200 built-in performance indicators and powerful, flexible reports and dashboards.
How does Yardis Forecast Manager help?
Property owners can use Forecast Manager to create easier, faster, and more accurate budgeting in a seamless ongoing forecast. Budgeting becomes more accurate and stress-free with a single platform for leasing, asset management and financial collaboration. The use of the forecast manager helps with current leasing assumptions in sales forecasts and replaces risky rent roll tables with a seamless continuous forecast. Landlords can easily manage unit-to-unit market rents while setting broader leasing budgets for a range of units, properties, regions or asset types. Yardi Forecast Manager is fully integrated with Yardi Voyager, Yardi Advanced Budgeting and Forecasting, Yardi Deal Manager, Yardi Construction Manager and more.