Waterfront mansions dominate West Vancouver's highest assessments
Expansive cellars and infinity pools are still on the checklists of the uber-rich but prime waterfront – and water view – locations define luxury real estate in North and West Vancouver.
The heated driveways, expansive wine cellars and infinity pools of the uber rich are still on the check lists of the North Shore's most luxurious mansions. But there's one characteristic that still defines many of North and West Vancouver's most sought-after addresses: waterfront.
"With waterfront, there's only so much of it. Everybody wants to live on the waterfront, pretty much around the world," said West Vancouver Realtor Calvin Lindberg of Angell Hasman and Associates.
On the North Shore, waterfront estates fronting the beach in West Vancouver, or Lower Lonsdale penthouse condos and mansions with expansive views over Burrard Inlet continue to be well represented among the upper strata of property ownership.
Seventeen homes in West Vancouver were on BC Assessment's list of the top 100 assessments in the province this year.
As is the case for more ordinary digs, assessments of the most luxurious properties were up this year, but only slightly, averaging about a five per cent increase, compared to last year's double-digit hikes.
3330 Radcliffe Ave. West Vancouver. Mike Wakefield, North Shore News
Hollingsworth-designed waterfront mansions top assessment rolls
Architecturally designed homes in beachfront West Bay and Sandy Cove neighborhoods continue to rank among the highest assessed properties. The area on the waterfront between Dundarave and Sandy Cove is known as the "golden mile" to realtors, said Lindberg. "Those properties always garner the highest sales and and the highest assessments."
Topping the list once again is a five-bedroom, six-bath mansion on the West Bay waterfront in West Vancouver, custom designed by architect Russell Hollingsworth on a large property at 3330 Radcliffe Ave., valued this year at $33.2 million. That's up about five per cent over last year's assessment of $31.65 million, but still less than the stratospheric value of more than $35 million which the property reached in 2017. It's lowest value in the past five years was in 2020, when the property was assessed at a mere $26.5 million.
The second-highest assessment was another West Vancouver Hollingsworth-designed Dundarave waterfront mansion. The three-bedroom, seven-bathroom 9,000-square-foot home, on a large property at 2588 Bellevue Ave., was valued at more than $28.73 million this year – up about six percent from its $27 million value last year. That property's highest value topped out at $30.92 during the real estate gold rush five years ago and fell as low as $21.58 million during the pandemic in 2021.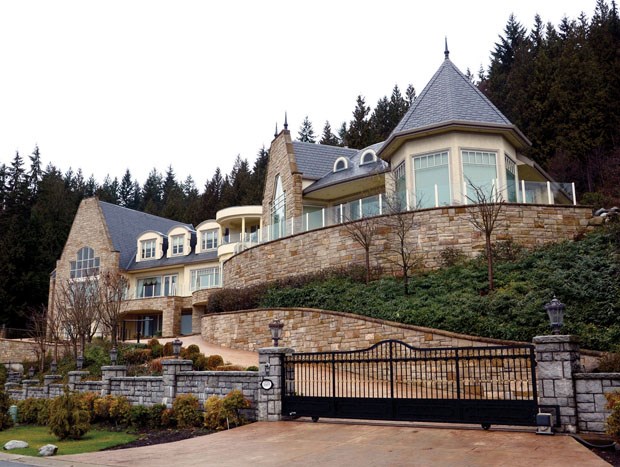 1669 Marlowe . Mike Wakefield, North Shore News
A Chartwell mansion at 1690 Marlowe Place in the British Properties – another familiar address in the top assessment list – was third highest this year with a value of $27.5 million, up eight per cent over last year's $25.39 million assessment.
Directly, across the street, the neighboring mansion at 1669 Marlowe also made the list of highest-assessed properties, coming in at number six, with an assessment of $23.3 million.
West Bay, Cartwell neighborhoods sought after
Rounding out the top 10 highest assessments were similar neighboring homes in those West Bay and Chartwell neighborhoods, valued at between $21 million and $24.6 million.
In the number four spot was a five-bedroom, seven-bathroom home of approximately 14,000 square feet that occupies a huge lot on the West Bay waterfront at 3110 Travers Ave. in West Vancouver, assessed at just under $24.6 million.
Number five was another West Bay waterfront mansion. The six-bedroom, nine-bathroom home on a massive lot at 130 Oxley St. was assessed at $23.8 million.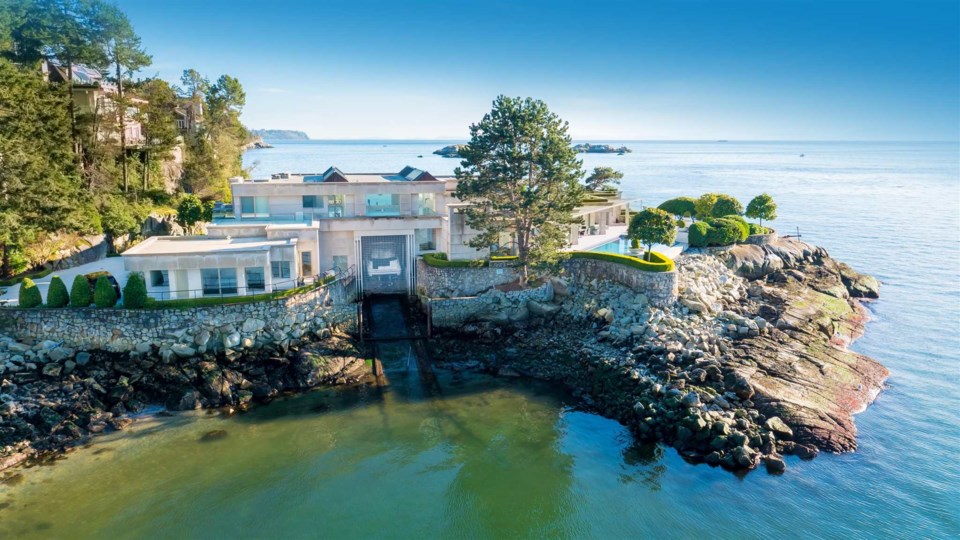 This West Vancouver luxury home at 5365 Seaside Place sold for $22.7 million at the end of August 2021. Malcolm Hasman, Angell Hasman & Associates Realty Ltd.
The property ranked number seven on the list of highest assessments was a modern 8,800-square-foot waterfront home at 5365 Seaside Place in Caulfield, assessed at just under $22.6 million. Situated on a private, gated peninsula and boasting an infinity pool, outdoor spa and boathouse, the four-bedroom, seven-bathroom home was sold for $22.7 million in August 2021 by Malcolm Hasman at Angell Hasman & Associates Realty Ltd, which was the highest sale that year.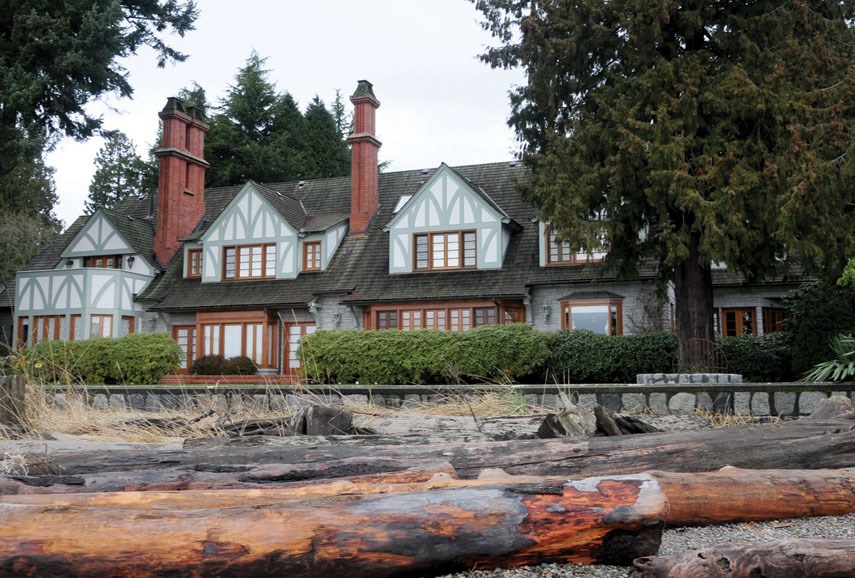 4351 Erwin Drive West Vancouver. Mike Wakefield, North Shore News
A 10,000-square-foot beachfront home at 4351 Erwin Drive, ranked number eight on the list with an assessment of just over $22.5 million, which was also sold in February 2021 for $18 million.
A neighboring waterfront four-bedroom seven-bathroom property at 4343 Erwin Drive was number nine with an assessment of $22.3 million. It last sold in March 2020 for $19 million.
Another waterfront property on Erwin Drive, at 4371, rounded out the top 10 assessed values ​​at $21.8 million for the five-bedroom, seven-bath home on a huge property.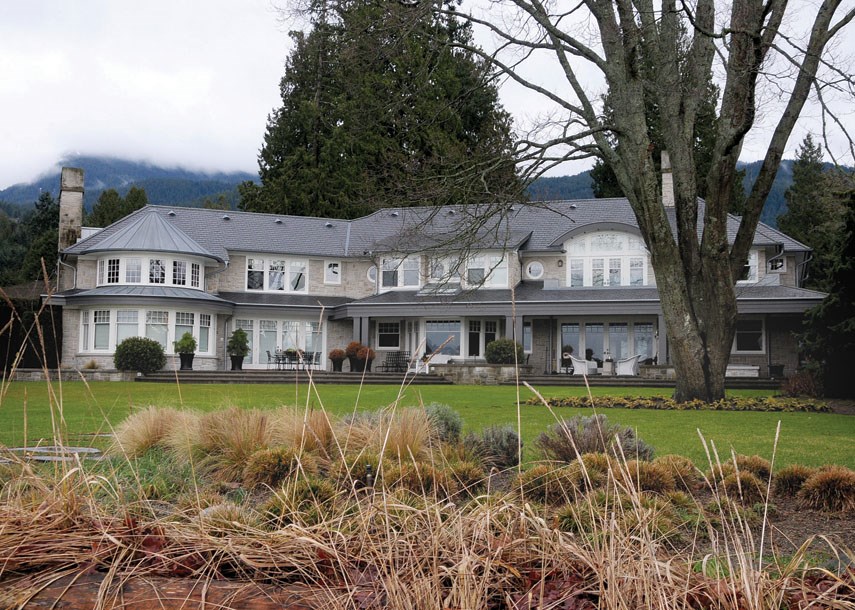 4343 Erwin Drive West Vancouver . Mike Wakefield, North Shore News
Actual property sales in such exclusive postal codes were down this year over last year, with 10 sales over $10 million reported on the North Shore this year, compared to 16 last year, said Brent Eilers of ReMax Masters Realty.
Who's buying such homes? "People who are very successful," said Lindberg.
Some are former mining and resource industry executives; others have made their mark in business and finance while some are in the movie business.
Few are losing sleep about the mortgage stress test, Lindberg and Eilers agree.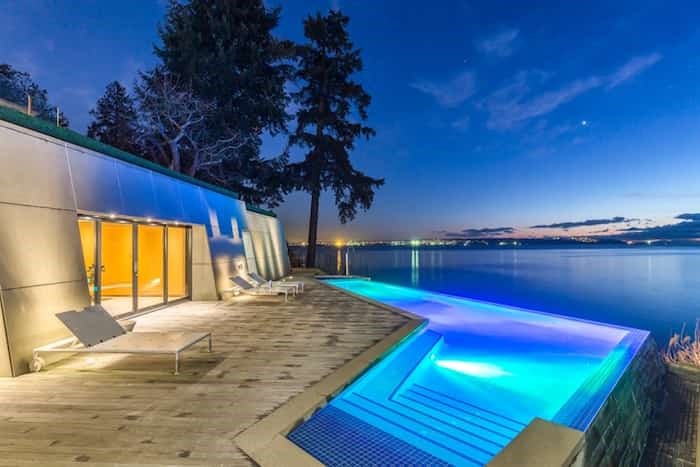 This home at 2910 Park Lane, West Vancouver, sold for $21.5 million in August 2022.
Iconic Altamount waterfront estate top sale of 2022
According to public real estate records, the top sale on the North Shore last year was an iconic five-bedroom, seven-bathroom luxury estate at 2910 Park Lane on the Altamount waterfront which sold for $21.5 million on Aug. 10.
The 14-year-old, 9,400-square-foot home sits on a lot of almost half an acre of high-bank waterfront, including 98 feet of shoreline.
The home was built in 2008 by its former owner Mossadiq Medaly, a former chair of BC Hydro and a leader in the renewable energy industry, on the site of an apple orchard formerly owned by a member of Vancouver's Woodward family.
Designed by architect Peter Grant, the home features luxuries like an elevator, indoor-outdoor speaker sound system, in-floor heating system, heated driveway, five fireplaces, infinity pool, floor-to-ceiling windows and a professional music room.
The luxury home, assessed at $14 million, was originally listed for sale at about $30 million.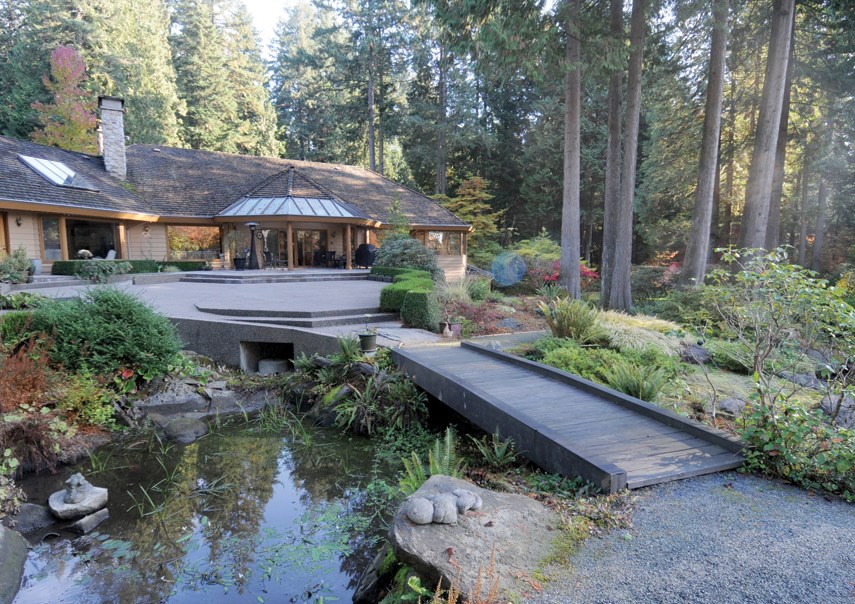 2250 Indian River Cres is the top assessment in North Vancouver. Mike Wakefield, North Shore News.
Secluded forest compound tops North Van assessments
In the District of North Vancouver, the top North Vancouver assessment continued to be a secluded 14-acre compound in the woods above Deep Cove, at 2250 Indian River Cres., assessed at $16.1 million – up about five per cent from last year. The property includes a 9,000-square-foot custom West Coast home as well as a pond and Japanese-inspired garden, although much of its property value is in its subdivision potential.
All North Vancouver's other top assessed properties continue to be found in a neighborhood on the Dollarton waterfront, on Beachview Drive and Lowry Lane, ranging in value from $11.3 million to $13.47 million.
The second and third top assessments were neighbors within a block of each other on Beachview Drive. A six-bedroom, six-bathroom home at 754 Beachview Dr., valued at just under $12.55 million, occupied the number two spot.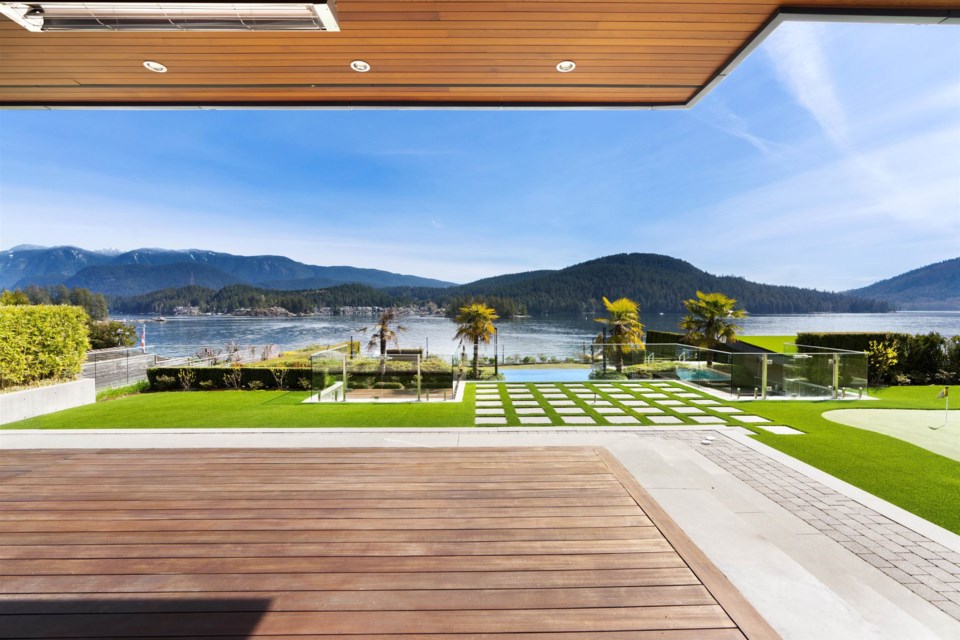 A home at 754 Beachview Drive in North Vancouver sold Sept. 8 for $14.9 million. Zealty.approx
Beachview Drive mansion sold for $14.9M in September
The deluxe 8,850-square-foot, six-bedroom, eight-bathroom home on three-quarters of an acre sold in September for $14.9 million.
Features of the oceanfront mansion include an infinity pool, 10-person hot tub, golf putting green, dock with boat lift, four-jet ski slip and private ramp. Inside features double height ceilings, Miele appliances, movie theatre, billiard area, gym, sauna, steam room and wine room.
Another neighboring home – a 7,200-square-foot waterfront house designed by architect Brian Hemingway, at 672 Beachview Dr. – which was the fifth highest assessment in North Vancouver, which was also the top sale in North Vancouver in 2021, going for $11 million. It was assessed at $12.7 million this year.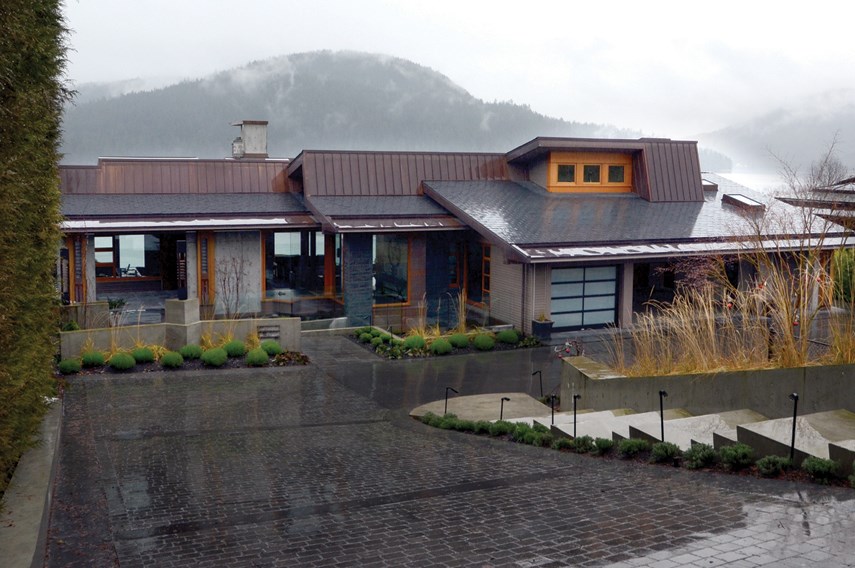 682 Beachview Drive was the fifth highest assessment in North Vancouver at $12.4 million. Mike Wakefield, North Shore News
Highrise havens top valued in City of North Van
All the City of North Vancouver's top 10 assessments were once again waterfront condominiums, ranging in assessed value from $5 million to $10.5 million.
The top assessment in the city was a penthouse suite in a waterfront condominium tower at 1301-199 Victory Ship Way, assessed at $10.4 million – up from its $8.97 million assessment last year. Eight of the top assessed condos were in a neighboring building at 175 Victory Ship Way.
The third-highest assessment in the city – a 3,000-square-foot sub-penthouse at 905-175 Victory Ship Way – was also the top sale in the City of North Vancouver in 2021, going for $5.8 million in Feb 2021. It is currently assessed at $5.3 million
[email protected]
twitter.com/JaneSeyd