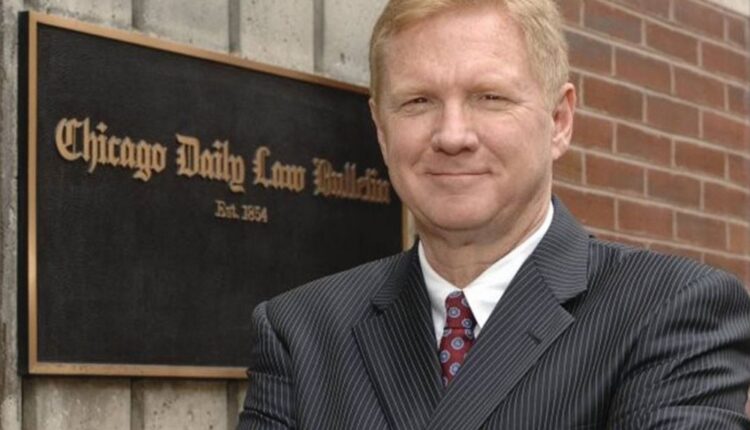 Remembering Mike Kramer, publishing veteran, founder of Minnesota Real Estate Journal
Mike Kramer, president of Law Bulletin Media and founder of the Minnesota Real Estate Journal, died at home on Monday, surrounded by family, after battling T-cell lymphoma.
69-year-old Kramer spent his life in news publishing and joined Law Bulletin in 1997. He was promoted to editor of the Chicago Daily Law Bulletin in 2007 and company president in 2015.
Kramer worked not only in his own company, but also in the communities where his publications were treated. He served as chairman of the Illinois Press Association's government committee and received the IPA's 2019 Distinguished Service Award.
Early in his career, Kramer was the owner of the Minnesota Real Estate Journal, president of the Edina Morningside Rotary Club and chairman of a referendum group for his local school district.
Kramer was born in the US state of Danville and grew up in Gibson City. At Monmouth College in western Illinois he met Ann Doherty, his wife for 46 years.
Don Craven, a one-on-one practitioner in Springfield, has worked with Kramer on many legal and legal issues throughout his career. He says Kramer's generosity and kindness are rooted in life and work.
"He never forgot where he came from," he said. "He was a Gibson City kid. He has reflected these values ​​in everything he has done. "
The Kramer name has long been associated with newspapers in central Illinois. Mike's grandfather ran newspapers in Warsaw, Illinois and Dallas City, Illinois, and Mike's father and uncle added the Gibson City Courier, the Piatt County Journal-Republican, and eight other smaller weeklies to the family empire.
After graduating from college, Mike began working as a reporter for the Journal Republican. He moved to Minnesota where he was hired to lead the Minnesota Newspaper Association.
In 1985, Kramer founded the Minnesota Real Estate Journal and spent the next decade starting similar publications in San Francisco and Los Angeles.
Jeff Johnson, chairman of the board of directors of REjournals, the editor of the Minnesota Real Estate Journal, said Kramer is missing.
"Mike's vision to bring unparalleled commercial real estate news and information to the commercial real estate industry was realized in its publication," said Johnson. "I firmly believe Mike's impact on the Minnesota commercial real estate community will last for generations."
Johnson said he stayed in close contact with Kramer even after the Minnesota Real Estate Journal was sold.
"He enjoyed hearing the news about the people he had relationships with in the 80s and 90s," Johnson said.
Mark Menzies, Senior Vice President and National Editor of REjournals, had worked for Kramer for a long time. He too said that Kramer's death left a hole in the local publishing community.
"Mike was a great person to work for," said Menzies. "Everyone at the company will miss his smile and helpful demeanor. He always complimented you and told you what a great job you did. He made us know we were valued. "
Menzies said Kramer's impact on the publishing and commercial real estate worlds will be long-lasting.
"Truth, honesty, and fairness are a few ways to describe Mike," said Menzies. "He gave people an opportunity and then went out of the way. He was a boss, mentor, and friend. "
Mike Szeliga, sales director for Law Bulletin Media, joined Minnesota in 1992 for the Minnesota Real Estate Journal. Szeliga was always impressed by Kramer's willingness to trust the young people who worked for him.
"He encouraged and challenged many young people in their careers," said Szeliga. "Mike wanted to give people a chance."
The Kramer family is closely connected to the Macfarlands, the fourth generation of the owners of Law Bulletin Media.
In the early 1990s, Kramer and Sandy Macfarland – now CEO of Law Bulletin – founded the Real Estate Information Network, an association of commercial real estate publications.
When the Minneapolis market subsided, Kramer reached out to the Macfarlands to propose a new rule: the Law Bulletin would take over the Minnesota publication and use it as a model for other state publications. The deal was signed in 1997 and Kramer was held responsible for the company's real estate publications. He was promoted to Vice President of Law Bulletin in 2002.
Kramer took up the role of editor for the Chicago Daily Law Bulletin and Chicago Lawyer Magazine in 2007.
Under Kramer's guidance, the 2014 Chicago Daily Law Bulletin won the Illinois Press Association's annual General Excellence Award.
In 2015, Kramer was named President of Law Bulletin Media.
"Much of Mike's success and leadership has been based on his integrity combined with years of publishing experience," said Sandy Macfarland. "Mike was a caring person and always made time for anyone who wanted it. He was a wonderful leader who had an open door policy. You could turn to him with personal or business problems and you would never feel like you are pushing anything on him. "
Kramer is survived by his wife Ann; his daughter Megan; his son Andrew; Grandsons Emma, ​​Jackson, Sadie, and Natalie; his brother Mark; his sister Lisa; and the family dog ​​Piper.
A memorial service will be held at Gurnee Village Church at a later date and the family will conduct a private funeral in Gibson City.
Instead of flowers, the family is asking for donations to Love INC of Lake County.